Event
THE RIPACK® 10-YEAR GUARANTEE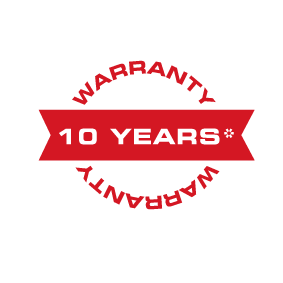 10-year warranty on all Ripack 3000 shrink guns
While most shrink guns only have a 1-year warranty, the Ripack 3000 shrink gun has a contractual warranty of 10 years from the date of delivery. The Ripack 3000 product warranty covers any latent defects due to material, design or manufacturing faults that affect the Ripack 3000 device and render it unfit for use.
Quality
This warranty guarantees the proper functioning of the Ripack 3000 shrink gun that has suffered an internal defect. It covers both the cost of repairing the Ripack 3000 unit (parts, labour and return shipping, leaving only the cost of shipping to the customer) and the replacement of the gun if it cannot be repaired. The 10-year warranty on the Ripack 3000 shrink gun therefore aims to ensure the best possible reliability of your product and to accompany you throughout its life.
Sustainability
The ten-year warranty is a testament to the longevity of the Ripack 3000 machine. It is a product that can be repaired and that will stand the test of time. Thanks to this lifespan, the Ripack 3000 allows us to reduce the possible overconsumption of this type of equipment and has a positive impact on an important aspect of our brand, namely sustainability.