Mobile Shrink Column
Turbopack
the heat tools alternative
The Turbopack shrinking column is the ideal solution for really significant quantities. Capable of shrinking more than 150 pallets a day, Turbopack is the alternative to Ripack shrink guns and a very expensive automatic line.
See shrinkage heights
Technical table
Maximum retraction height

80cm

120cm

160cm

200cm

240cm

320cm

Energy developed

75kW

110kW

143kW

177kW

210kW

280kW

Consumption at 100%

5,48kg/h

8kg/h

10,35kg/h

12,79kg/h

15kg/h

20kg/h

Adjustable pressure

1,5 to 2,5 bars

1,5 to 2,5 bars

1,5 to 2,5 bars

1,5 to 2,5 bars

1,5 to 2,5 bars

1,5 to 2,5 bars

Gas used

Propane

Propane

Propane

Propane

Propane

Propane

Empty weight

84kg

94kg

102kg

112kg

121kg

140kg

Passage around pallet

140cm

140cm

140cm

140cm

140cm

140cm

Visor option

No

No

Yes

Yes

Yes

No
Autonomy and mobility,
the benefits of a mobile shrink station
The Turbopack is a heat shrink column installed on a trolley that is easily moved thanks to its pivoting wheel system. This allows the operator to shrink at any point in the shipping area, thus avoiding the movement of unstable loads.
More efficiency thanks to its power and speed
Its unique design allows for a strong hot air flow for efficiency even on thick films. 50 seconds are enough to shrink a pallet (euro type) regardless of the height (upper limit at 3.2 m).
The only adjustment required is to close the valve to set the height to be shrunk. Adaptation to the load to be retracted is therefore quick and easy. There is no need for programming, time-consuming handling or complex maintenance.
Economical and flexible for an unmatched price/performance ratio
The Turbopack can carry up to 3 gas cylinders (13 kg). With more than 60 pallets shrunk per cylinder, the autonomy and low consumption are real assets for your shrinkage station.
There is no limitation of length or width of the load (unlike frames or ovens) and up to 3.20 m high. It is a real advantage for very long pallets and shrinkage of different sized pallets. In addition, a visor option is available for models from 1.6 to 2.4m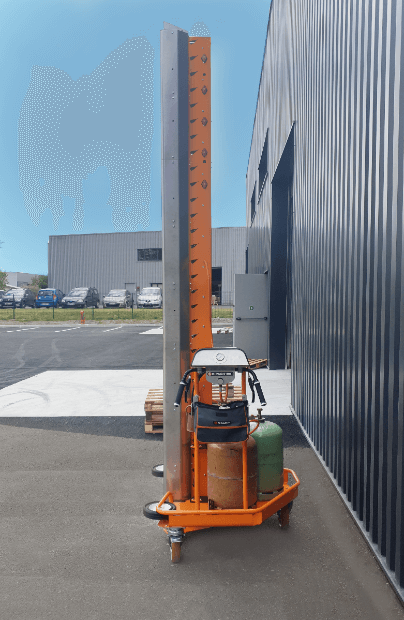 More power
under full safety with our mobile shrink column
A safety device prevents it from getting unintentionally ignited by blocking the ignition handle. A two-step ignition process ensures the shrinking station is safe.
The design of the control handle means the gas supply is automatically cut off when the control handle is released.