Shrink
wrapping shrink film
Due to its specific design, shrink-wrap has various features and provides excellent protection for all kinds of products by providing firm, appropriate support during transportation and storage, ensuring goods are protected from damage, bad weather, dirt, etc.
The LDPE film can be micro or macro perforated and printed for customization.
Know more
Manufacture:
LDPE granules are extruded by a heated worm and blown through a die to become an endless film bubble of a determined diameter and thickness.
This bubble moves vertically through a cylindrical cage while cooling before being rolled. Then, at a later stage, it is transformed into layflat film, layflat tubing, gusseted tubing, covers, pre-cut covers, pallet covers, bags, etc.
Recycled LDPE granules can be introduced at the beginning of manufacturing. The percentage used affects the quality of the final product. The lower the percentage, the higher the quality.
Single-layer films are made from a single extrusion and multi-layer films are made by a co-extrusion process using a combination of polyethylenes.
The LDPE film can be micro or macro perforated and printed for personalisation.
The LDPE granules can undergo various treatments, by adding specific agents, to give the film very specific qualities: opacity or transparency, anti-UV, anti-static, non-flammable, anti-corrosive, slippery, non-slip, etc.
When used, the film shrinks under the effects of a heat which is similar to that used to extrude the LDPE granules. This allows the film to flatten uniformly and smoothly against the load it is covering in order to hold it firmly, while protecting it from the heat by acting as a heat shield.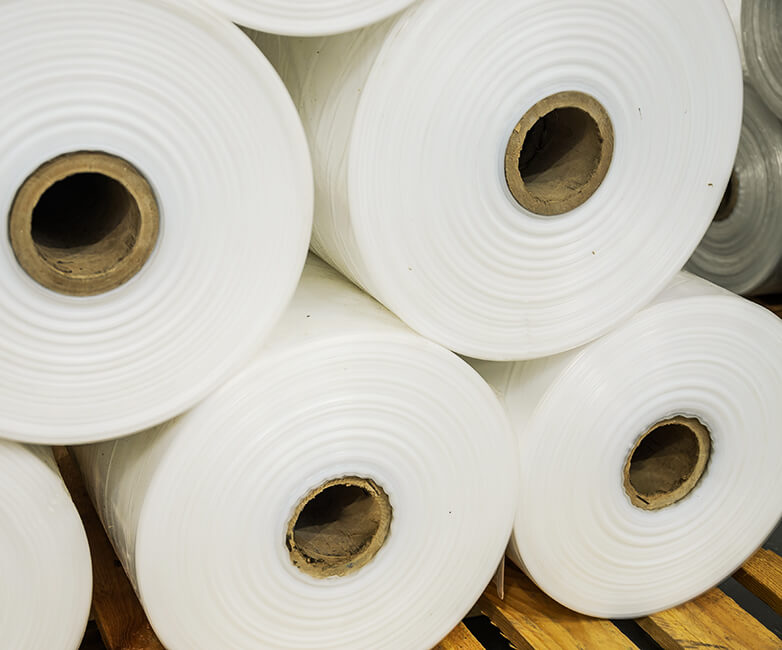 The shrink wrapping,
an alternative solution for your packaging
LDPE shrink-wrap provides custom-made packaging for all products, whether single or grouped, by tightly-fitting around the most varied forms (size, volume, irregular shapes, materials, etc.). We thus talk about it having excellent conformability.
Shrink-wrapping stabilises and secures the contents of pallets while providing excellent protection against various damaging factors such as dirt, dust, bad weather (rain, snow, wind), etc.

100%
recyclable
First, it is converted back into LDPE granules and then it is recycled various times to firstly become "agricultural film" then, after being recycled a final time, it becomes "rubbish bags" and ultimately, disappears after being incinerated.
Alternative packaging solutions

Alternative boxes packaging

Alternative wooden crate packaging

Alternative wooden container packaging

Alternative stretch film pallet

Alternative strapping