Accessories
How to optimise your mobile shrink station ?
Nowadays, it is not unusual to find mobile shrinkage stations in some companies. The mobile shrink station can be adopted for accessibility, safety or flexibility. However, not all mobile shrink stations are created equal. We explain how to optimise your mobile shrink station.
How to best optimise your mobile shrink station?
A mobile shrink station can be thought of as simply moving your gas cylinder on wheels. However, a mobile shrink station can be optimised to carry all the equipment used by the operator, not just the cylinder. The main goal is to help the user by facilitating all his movements in his work and to fight against Musculoskeletal Disorders linked to this activity.
The different types of mobile shrinkage stations
The choice of a mobile shrinkage station is based on different needs. Some mobile shrink-wrapping stations are very simple: they allow you to move your gas cylinder on a two-wheeled trolley.
For others, the mobile shrink station needs to be able to move, store and/ or place the equipment used to perform the various tasks of the operator. To meet these needs, we can find shrink stations with a space dedicated to the transport of the gas cylinder, a mechanism for holding the gas hose or a storage for its shrinking tool.
Our mobile shrink stations: Ripack trolleys
To facilitate and optimise your mobile shrink station, Ripack has created a range of trolleys that meet the different needs involved in installing a mobile work station.
Our trolleys are designed for maximum efficiency and safety. The Ripack range consists of three trolleys, each of which meets a different need.
936 trolley
The 936 trolley in our range allows you to transport your 13kg gas cylinder anywhere effortlessly and safely as it is held to the trolley by a strap. This trolley has a hook for hanging your shrink gun and a mast to hold and protect your gas hose. In addition, there is also a bag for storing the various tools that may be used during your work on this mobile station.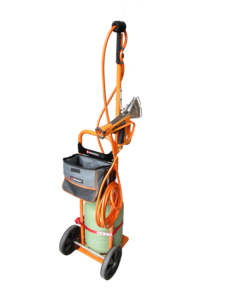 936+ trolley
The Ripack 936+ has the same features as the 936 with the addition of a shelf. This shelf can be used when the operator has documents to carry with him and needs to dispose of them quickly and easily. An elastic band keeps the documents carried on the trolley in place, preventing them from falling off when moving the shrink station.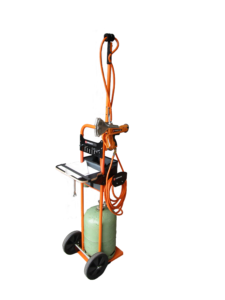 932 trolley
This is the most complete trolley in the range. The 932 has been designed to carry gas cylinders up to 33kg. Unlike the 936 and 936+, which only have 2 wheels, the 932 has 4 wheels for optimal stabilisation of a 33kg cylinder. In addition, the 932 has handles on the shelf to make it easier to move the mobile shrink station in push or pull mode.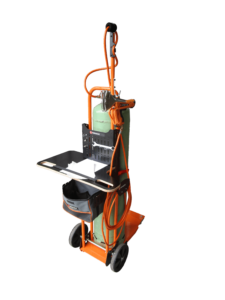 You are now aware of the different types of mobile shrink stations and the needs they meet. If you are interested in the Ripack range of trolleys, our team will be happy to answer your questions and advise you if necessary. To do so, you can contact us by e-mail at info@sefmat.com or via the contact form.