Shrink gun
HOW TO CHOOSE YOUR SHRINK GUN ?
Do you have a need for packaging materials and don't know which shrink gun to choose? We are telling you how.
How to choose your shrink gun ?
You need to transport goods, and have opted for shrink wrapping. Now it's time to choose the right shrink gun to secure your loads. We explain how to choose the right shrink gun for your needs.
The different types of shrink guns
When choosing your packaging solution, the safety of your goods is an essential element to consider. Shrink wrap is one of the safest solutions for your loads, as it will fit any shape or size, while protecting your goods. In order to shrink wrap your film, you must choose your shrink gun, otherwise known as heat guns. There are different types of shrink guns.
Firstly, the electric shrink guns. These tools will be particularly suitable for environments where the use of gas is prohibited. One of the advantages of these products is that they do not require transportation or change of gas cylinder.
Secondly, gas powered shrink guns. These tools allow a higher power than the electric one. They do not require an electrical power supply to operate and can be carried anywhere.
It is up to you to determine which gun will best suit your packaging needs.
Gas shrink guns: the Ripack range
At Ripack, we specialize in the design of gas operated heating tools. Our range of shrink guns can cover all your needs. When you choose Ripack, you choose reliability and safety.
We offer four different shrink guns with different technical characteristics to best suit any need.
Ripack 3000
The Ripack 3000 shrink gun is the flagship product of our range, and the most powerful. It is certainly the most versatile on the market covers a very wide adjustable power range, can receive an extension wand to work on low pallets or on large volumes and of course benefits from the "cold nozzle" technology which protects you against all risk of burns after using your equipment. This product is also equipped with a quick maintenance system for changing the igniter.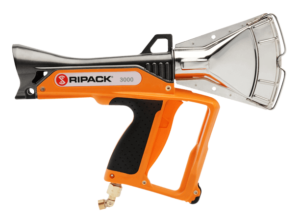 Ripack 3000 +
The Ripack 3000 + is the latest Ripack innovation. The combination of the flagship product, the Ripack 3000, with the short S33 lance, will provide you an optimal ergonomics allowing the reduction of Musculoskeletal Disorders (MSD), which can be caused by constant bending and stretching during strenuous work. Get precision work, especially thanks to Ripack technology of short and rigid flame. Its 360 ° rotating nozzle remains removable. Its new combustion with enlarged heating zone saves you working time.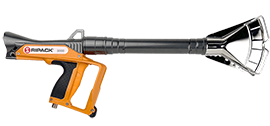 Ripack 2500
For regular shrink-wrapping needs, the Ripack 2500 is the ideal tool for protecting your pallets. With adjustable power, it will adapt to the thickness of your films. Compact and light, the Ripack 2500 is equipped with "cold nozzle" technology for unparalleled safety. With its innovative quick and tool-free igniter change system, benefit from a reliable and robust shrink gun.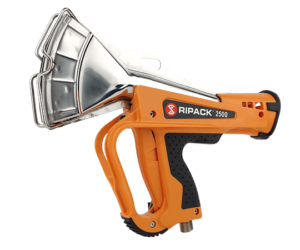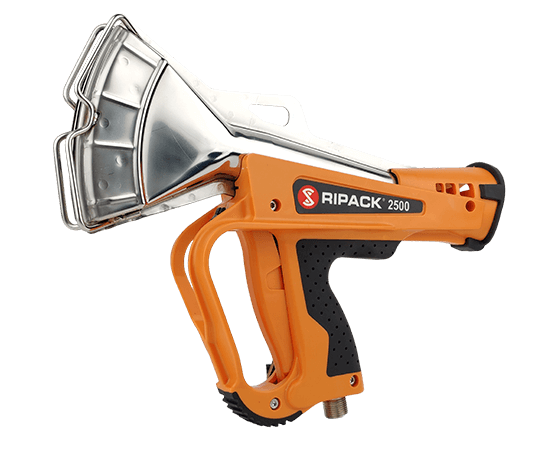 Ripack 2100
For the best start in the shrink-wrapping application or for low use, the Ripack 2100 is a quality, reliable and secure tool on a low budget basis. Its fixed power of 40 kW makes it very easy to use and suitable for shrinking films down to 150 microns. Ripack reliability and safety are reflected in the design of its stainless-steel heat diffuser equipped with "cold nozzle" technology.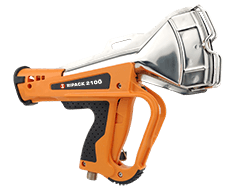 Now that you know more about the different shrink guns available on the market, it's time to choose the one that will best suit your needs. Our team can also advise you in case of need. For this, you can contact us via our contact form or via email at info@sefmat.com.