Event
STEPS FOR EFFICIENT PALLETIZING
Steps for efficient palletizing
The way your loads will be placed on your pallet is paramount when you need to send goods. This is called palletization. There are, however, certain important steps that will make your palletizing efficient, and thus ensure good stability and security for your goods. Choosing the right type of pallet, stacking the boxes and protecting the pallet are the steps to good palletization.
Choosing the right type of pallet
You should already know that the type of pallet you are going to use for your goods shipments will depend on different criteria. The means of transport used, the storage of your pallets, the destination, and the weight of the goods as well as the weather resistance are all points to be taken into account in your choice.
There are different types of pallets, adapted to different needs.
Wooden pallets are widely used because they are very resistant and easily repaired. Wooden pallets can support 500 kg dynamic load and up to 2500 kg static load.
Within the category of wooden pallets, there are different types of wooden pallets:
Disposable pallets, which are very light and economical, but are single-use pallets, and therefore not reusable.
EPAL pallets, which are very strong and suitable for heavy loads. However, EPAL pallets are consigned
The VMF (Verreries Mécaniques de France) pallets, which are used for transporting bottles, support a load of 1000 kg.
Pallets with skids, 3 or 5 skids, suitable for handling by pallet truck. Note that pallets with 5 skids are more resistant to deformation.
Molded pallets, which are light and strong and can support up to 1250 kg of dynamic load. The advantage of these pallets is that they are environmentally friendly, as they are made from recyclable wood shavings.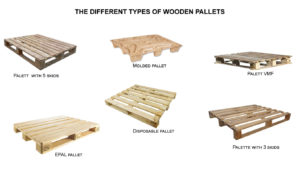 However, it is important to note that the use of wooden pallets is regulated. There is indeed an international standard, ISPM 15 (International Standard for Phytosanitary Measures), which concerns wood packaging material. This standard deals with the treatment of pallets, in particular in order to avoid infestation of forests by pests present in the wood of the packaging material.
The main advantage of this type of pallet is that they are very resistant to shocks. Plastic pallets are mainly used for export, as they do not require any pest control treatment. In terms of storage, they are very practical because they can be stacked. Finally, in addition to being light, they are water-resistant and non-porous.
The cardboard pallet is mainly used in industry, and allows protecting the goods from bad weather. It can support up to 500 kg, and is recyclable and biodegradable.
As you will have understood, choosing the type of pallet you will use to send merchandise will depend on the weight of the load to be supported, as well as the use that will be made of it.
Stacking the boxes
The way you place your boxes on your pallet is very important. This is called "stacking the boxes". Here are some tips to help you secure your goods and stabilize your pallet.
Place the heaviest and smallest boxes on the bottom of the pallet.
Place the lightest and largest on top
Arrange the merchandise so that it is at the same level
The top of the pallet must be flat
Protect the pallet
In order to protect the corners of your pallet, you can add angles to it.
The second and most important step to protect your pallet will be the filming. You will have to choose between stretch film and shrink film.
We advise you to use shrink film, which, when heated, will take the shape of your pallet and give it greater stability.
Discover our range of shrink films, which will adapt to your needs, depending on the size and shape of your pallet.
Now that you know the steps for efficient palletizing, it is up to you. If you have any questions, do not hesitate to contact us via the contact form or by phone at +33 (0)5 56 34 35 18, one of our experts will answer your questions.
To find out more about the advantages of shrink film, read our article Why choose shrink wrap ?