Event
THE USE AND RECYCLING OF POLYETHYLENE
The polyethylene heat shrink film
Shrink film or stretch film? Now that the choice has been made, it is important to understand what the advantages of polyethylene shrink film are, and in what form it is available. To do this, it is important to determine the uses for which you will be using your film, but the choice will also be made according to the time and place where your pallets will be stored.
What is polyethylene?
Polyethylene is the most widely used plastic in the world. In France, it accounts for more than 70% of the total consumption of plastic packaging. It is found in particular in the sectors of :
Agriculture: transparent films for greenhouses, wrapping films…
Industry: storage tanks, bodywork parts, etc.
Food: food packaging and films ;
Health: manufacture of prostheses…
Waste collection: dustbins, compost bins…
This material is obtained by the polymerization of ethylene, which consists of uniting several molecules of ethylene to form a single molecule.
There are different types of ethylene:
LDPE, low density polyethylene
HDPE, high density polyethylene
Linear low density
Low density and linear polyethylene   give flexible products (films, pipes…), high density polyethylene gives rigid products.
How is it recycled?
Polyethylene is a recyclable material. Once in a recycling center, it is isolated, stored, crushed, washed, dried, then transformed into flakes and incorporated into new containers.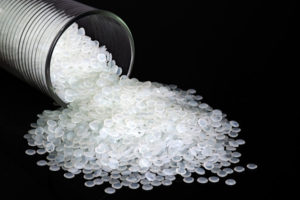 Industrial LDPE heat-shrinkable packaging film is 100% recyclable.
It is first transformed into LDPE granules and undergoes various recycling processes to become successively "agricultural film" and then "garbage bag" after a final recycling process, before finally disappearing by incineration.
Polyethylene is a non-toxic and environmentally friendly material. Indeed, new technological advances make it possible to obtain it from non-fossil resources such as sugar cane.
What type of polyethylene do we use?
This highly conformable film stabilizes and secures pallets, while protecting their contents from possible damage (weather, dirt, etc.).
In order to best meet the needs of our customers, we work with different types of film.
A LDPE shrink film is never anti-UV by nature but it becomes anti-UV by the addition of anti-UV absorbing agents in the colorless LDPE granules during the extrusion or co-extrusion of the film.
This is known as "UV stabilization", ensuring that the film will not disintegrate under the effect of ultraviolet light for several months. This guarantee usually does not exceed 12 to 18 months.
Fire-resistant shrink film
LDPE shrink film is "flame retardant" or "flame retardant" through the addition of specific agents at the time of extrusion or co-extrusion, such as antimony compounds and other aluminum trihydrate. This is referred to as "fire resistance" and is not limited in time.
Opaque or translucent shrink film
The translucent shrink film, originally milky in appearance, becomes more transparent during shrinking and remains so afterwards. This quasi-transparency allows a permanent visual control of the packaged goods.
Shrink gusseted tubing is a term used in packaging to describe a "tube" of LDPE film that is welded to the desired height to make a cover. It allows for greater flexibility.
Shrinkable covers are available in 3 different versions: as individual covers directly ready for use, as pre-cut covers, welded and wound on a cardboard or plastic core and easily separable by means of the dotted cut.
Now that you know how polyethylene is recycled and the different forms in which it can be found, it is time to choose the one that best suits your needs. We can of course advise you on the use, application or type of film you may need. To do this, you can contact us via the form on our website or call us on +33(0)5 56 34 35 18.